Fixed Fee vs. REALTOR®: Pros and Cons When Selling Your Home
Posted by Robert Hasek on Monday, December 30, 2019 at 7:00 AM
By Robert Hasek / December 30, 2019
Comment
Are you planning on selling your home? Are you stuck between hiring a fixed fee service or partnering with a REALTOR®®? Our handy list of pros and cons can help you determine which option is best for your unique needs.
Fixed Fee Services
In short, fixed (or flat-fee) agencies offer sellers the opportunity to skip paying commission in favour of a set rate. Under this model, sellers may also choose to pay for additional services in order to further promote the sale of their home (i.e. the fixed rate plus viewing and negotiation services for an additional fee).
Pro: Potential Savings
While how much you'll save depends on several factors (including time spent on the market, accumulated marketing costs, additional services, etc.), fixed fee agencies provide an opportunity to save on commission fees.
Pro: Choosing Your Services
Many fixed fee agencies allow you to pick and choose the services you'd like to pay for – giving you greater control over your home selling budget.
Pro: MLS® Listing and Professional Photos
Fixed fee agencies also provide sellers with an MLS® listing, accompanied by essential high-resolution photos.
Con: Limited Support
Sellers are often forced to rely on customer support teams to address their questions and concerns. Slow response times and multiple contacts can create added confusion and/or frustration for the seller when it comes to getting expert guidance they need.
Con: Minimal Marketing
Beyond photos, sellers who want their home to stand out among thousands of other listings will need to invest in other forms of marketing and advertising.
Con: Extra Fees
Additional support from flat-fee agencies comes at an additional cost. This includes basic real estate services such as showings, negotiations and paperwork.
REALTOR®S®
While REALTOR®S® specialize in real estate transactions, they also play many other roles, including counsellor, property manager, market and marketing specialist, negotiation expert and more. In exchange for the many helpful services they provide, REALTOR®S® charge a commission fee, negotiable according to the agent's discretion.
Pro: Sell Your Home Faster
REALTOR®S® specialize in attracting the right buyers to your home (at the right time) through various channels, including online advertising, virtual tours, print advertising, open houses and more.
Pro: Reliable Support
It is your agent's job to act in your best interests. From start to finish, you can count on your REALTOR®® to provide the advice and guidance you need, when you need it.
Pro: Sell For More Money
As market experts, your REALTOR®® knows how to price your home for a profitable sale. In many instances, an agreeable asking price can lead to multiple offers, potentially allowing you to sell for more than you anticipated.
Con: REALTOR®® Commission
In a typical real estate transaction, it is the seller's responsibility to pay the agent's commission. How much commission is up to the agent, who will work with the seller to come up with an agreed-upon rate.
Con: Doing Your Research
Not all REALTOR®S® are created equal. You may find yourself interviewing several agents before finding the right fit for your needs.
Con: Working With a Middle Man
Rather than handling the transaction on your own, working with a REALTOR®® means trusting your agent to do the legwork for you – acting as a liaison between you and potential buyers.
Learn more about the home selling process by taking advantage of our free Seller's Guide or by checking out our blog!
Related: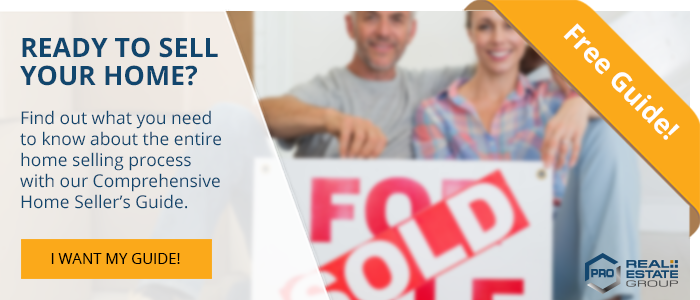 Photo credits: freepik.com