For the Love of Barbecue!
Posted by Paul Paiva on Thursday, June 29, 2017 at 7:21 PM
By Paul Paiva / June 29, 2017
Comment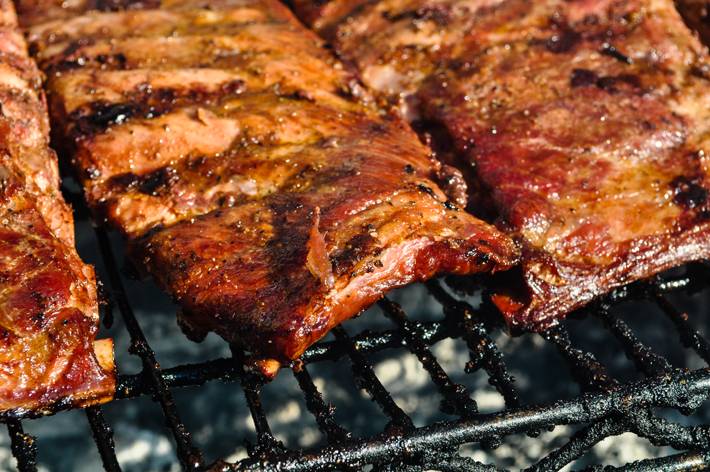 The history of barbecuing, or cooking meat by grilling over fire, dates back to our ancestors more than 100,000 years ago. (No, dinosaurs were not around to share the meal.) Today, barbecuing is an art, science, and a summertime passion. And it goes far beyond steak. Fish, for example, explodes with flavor when grilled. The following recipe for Grilled Cajun Salmon will introduce you to a spice rub that will surely become a favorite, and it will send you shopping for two accessories to add to your barbecuing paraphernalia (if don't already have them): the electric spice mill and the fish grilling basket.
Spices have a tremendous impact on the outcome of the dish. Without spices, you might as well not bother grilling. Beware, though. The aroma and flavor of spices decreases as freshness decreases. This is terrible news considering that some spices are ground and packaged months or even years before you buy them! Whenever possible, buy whole spices that you can grind yourself, or buy small amounts of freshly ground spice. New accessory #1 to add to your Barbecue collection: the electric spice mill.
A spice rub replaces the time required for marinade or the fuss of a baste. Just rub then grill, and you'll create a spicy crust that nicely contrasts the inside of the meat. The resulting flavor is intensified because the spices are not diluted by liquid. The possible flavor combinations for spice rubs are endless.
½ C. coarse (kosher or sea) salt
2 tbsp garlic powder
2 tbsp onion powder
2 tbsp dried thyme
2 tbsp dried oregano
2 tbsp paprika
1 tbsp freshly ground black pepper
1 tbsp freshly ground white pepper
1 to 3 tsp cayenne pepper, or to taste
Combine all the ingredients in a jar, twist the lid on airtight, and shake to mix. Store away from heat and light for up to 6 months. (Cut the recipe in half if you don't expect to use it within this time.)
Fish of all types and sizes are perfect for the barbecue. How about salmon? New accessory #2 to add to your Barbecue collection: the hinged fish grilling basket. The baskets come in a variety of sizes so you can grill and turn a few fillets, an entire fish, or even up to three fish at a time! Pick the size that you think you will use most. Also, be sure to purchase a non-stick variety or be sure to well-grease the basket before using it.
Grilled Cajun Salmon
4 salmon fillets
1 tbsp Dijon mustard
Cajun rub (1/2-1 tsp per fillet, depending on size)
½ lime
Spread Dijon mustard over each salmon fillet. Rub Cajun rub into each fillet. Grill fillets on barbecue using a basket, approximately 3 - 6 minutes per side. Squeeze juice from lime onto each fillet and serve.
On a final note for successful barbecuing this summer, make sure to keep everything sanitary. When handling and preparing fresh meat, always wash hands and the preparation surface areas regularly. Dry your hands with paper towels instead of cloth. Stay away from the bacteria and germs that are ready and waiting for you and your guests.
If you need just one more reason to put fish on your barbecue, it's this: While scientists are not quite sure of the link between eating fish as brain food, we certainly know that the omega-3 fatty acids lower the risk of blot clots, which in turn decreases your chance of a heart attack.
Happy grilling!